Managed VPN or dedicated Virtual Private Networks provide
Connectivity solutions for establishing long distance and/or highly secure network connections. Dedicated virtual private networks provide many advantages in comparison to other connectivity technologies, particularly in regards to wireless local area networks. Companies wishing to provide secure networking infrastructure to its clients will find two main advantages with Macintosh Electronics Ltd VPN solutions, UK network scalability and decreased costs. Some of the ways in which a managed VPN can save money for businesses are by removing the need for expensive long distance leased lines, eliminating support costs and reducing the charges for long distance telephone calls.
Companies looking for managed VPN solutions, may also require business ADSL, SDSL or bonded DSL solutions. Leased lines are also available to provide ongoing and reliable internet connectivity for a managed VPN.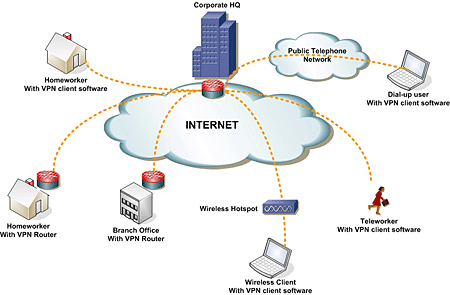 Managed VPN Solutions UK
Managed VPNs use a public network infrastructure like the internet to connect between office locations, removing the need for a long distance leased line to provide secure connection between offices. The VPN connects to the secure virtual network using a broadband or cheaper local leased lines and a nearby ISP instead, making the connection to your secure VPN much more cost effective, as all connections are made locally.
Telephone Costs with Dedicated Virtual Private Networks
Long distance telephone costs can be much more cost effective as a VPN can be used to replace remote access servers. This means that long distance dialup networking to company intranets can be replaced by connection to the nearest service provider's access point, ensuring all calls made are local, not international.
VPN Solutions UK – Network Scalability
Costs of building dedicated private networks are reasonable at first; however the costing increases as the organisation grows in size. Internet based managed VPNs do not require a multitude of lines to connect to company offices, so the cost is relatively small as offices can connect using public lines that are already available.