Office Network Installation
Fully functional building developments for both residential and business uses are in high demand in the modern market. Clients want to move in fast and hassle free, with all the latest technology pre-installed.
Innovative network design and installation services from Macintosh Electronics Ltd ensure high speed connectivity throughout your property, providing internet ready and installed telecommunications in property developments and buildings requiring network services.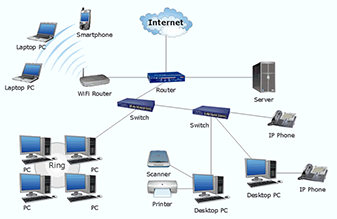 Developer partnerships
Macintosh Electronics Ltd can provide managed data communications, cabling, network installations and IP telecommunication systems to any type of building, including existing properties and new developments. We work with developers, charging only a percentage of the revenue from the provided services, meaning the developers will receive commission from the installation.
Property development services available:
Managed data communications
IP telecommunications
Cable setup and installations
Managed servers
Email services
Internet connections
Telephone systems
CCTV IP monitoring systems
Here are a small selection of property types we can provide services for:
Student halls and education buildings
Managed offices
Residential properties/estates
Shopping centres
Public sector buildings
Hotels and leisure developments